Area Attractions
Blue Ridge Parkway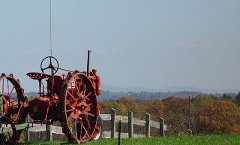 America's Most Scenic Drive cuts through southwest Virginia, offering breathtaking views of the area's mountains and valleys of Appalachia.
The National Park Service manages the lands bordering the parkway, which runs north from the Great Smoky Mountains National Park all the way to Shenandoah National Park.
Near Hillsville, visitors can catch up with a key piece of history along the parkway, at the Orlean Hawks Puckett Cabin. Located at milepost 189.9, the cabin was home to the famous mid-wife who helped deliver an entire generation of new babies into the area.
Other popular sites include the Rocky Knob cabins and Mabry Mill located at mileposts 169 and 172. The cabins were built in the 1930s and are the only cabins for rent on the parkway. The mill once operated as a gristmill and sawmill, but today serves as a meeting spot for local musicians and dancers on Sunday. Map to the cabins. Map to the mill.
Old Fiddler's Convention in Galax, VA

First held in 1935, the Old Fiddler's Convention was organized by the Moose Lodge #733 to raise money and publicize their new organization. One of the initial goals was to keep alive the memories and music of the past. That objective remains the same as the convention has continued to grow and mature.
Felts Park in Galax provides campgrounds for musicians and fans of the music. This unique setting allows experienced convention-goers and new ones to rub elbows and share their appreciation for country and mountain music.
The convention is held before the second weekend of August. More information about the world's oldest and largest old fiddler's convention.
Map to Felts Parks.
Floyd Country Store
More than 100 years old, the store describes itself as an historic country store that features traditional Appalachian music and a unique selection of local merchandise and clothing.
"You can't miss the barrels of old-fashioned candy at the front of the store and if you explore further you can find everything from hand-dipped ice cream to hard-wearing bib overalls. The store is a meeting place for the community, where folks gather to play checkers, enjoy a bowl of our homemade soup, buy fresh baked bread or pastries, and browse a unique selection of merchandise."
More information about this historic symbol of Americana.
Map to the store.
State Parks
New River Trail Park runs along 39 miles of the New River, allowing visitors access to fishing, hiking, canoeing and many other ways to enjoy Virginia's natural beauty. Map to the park.
Claytor Lake Park is located near Interstate 81, offering swimming, camping, cabins, lodges, nature and history programs, and miles of hiking trails. The visitor center is located in the historic Howe House. The namesake of the park and the lake is Graham Claytor, who supervised construction of the Claytor Dam in 1939. Map to the park.
More Historic Sites
The Shot Tower State Parks, 15 miles
Hillsville's Historic District, downtown
The Carroll County Courthouse: downtown
The Carroll County Historical Museum, downtown
The Chateau Morrisett Winery, 25 miles
The Andy Griffith Playhouse: Mt. Airy, NC, 25 miles
Events
Hillsville's Memorial Day Flea Market
Hillsville's "Dancing in the Square" and Antique Car Show, held monthly throughout the summer months.
The Carroll County Fair
Hillsville's Labor Day Flea Market and Gun Show
The Spring Arts and Craft Show, last Saturday in April
The Fall Arts and Craft Show, 3rd Saturday in October
The Galax Old Time Fiddlers Convention, August
NASCAR at Martinsville, VA 60 miles
NASCAR at Bristol, VA 80 Miles